NEWS
"Bennifer" Voted the Decade's Worst Couple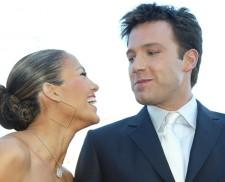 Congratulations Bennifer, you're number one — of the worst! Ben Affleck and Jennifer Lopez were voted the decade's worst celebrity couple in an online dating poll announced Wednesday. Can you guess who was voted the best?United Press International reports that Date.com, Matchmaker.com and Amor.com polled thousands of male and female online daters and Twitter followers in the United States, asking which celebrity couple they thought represented the best and worst of the decade.
Article continues below advertisement
Approximately 50.5 percent of voters named Bennifer the worst, followed by Jon Gosselin and Kate Gosselin with 11.5 percent of the votes. Britney Spears and Keven Federline came in third with 10 percent of the votes.
Other celebrity couples that wound up on the worst list were Tom Cruise and Katie Holmes, Angelina Jolie and Billy Bob Thornton, Charlie Sheen and Denise Richards, Guy Ritchie and Madonna, Lindsay Lohan and Samantha Ronson, Paris Hilton and Rick Salomon, and Flavor Flav and Brigitte Nielsen.
So which couple was the best of the decade?
With 42 percent of the votes United States President Barack Obama and first lady Michelle Obama won.
Brad Pitt and Angelina Jolie came in second with 15 percent of votes and Ashton Kutcher and Demi Moore received 11.5 percent.
Other stars that made the best list were David Beckham and Victoria Beckham, Jay-Z and Beyonce Knowles, Ellen DeGeneres and Portia de Rossi, Heidi Klum and Seal, Chris Martin and Gwyneth Paltrow, and Howard Stern and Beth Ostrowsky.