NEWS
Best of the Breasts: OK!'s Battle of the Cleavage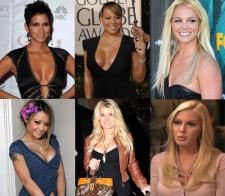 Between the heaving chests and plunging necklines at the Golden Globes, Jessica Simpson busting out over dinner, and Tila Tequila grieving in a way that only she can, boobs are once again big (pun intended) in Hollywood. So we're asking you to settle the question once and for all — Who has the best cleavage in showbiz?
For the first round, we've divided 24 of Tinseltown's most buxom celebrities into six groups of four. For each group, you can vote on up to two of your favorite stars.
Article continues below advertisement
The top two finishers from each group will move onto the next round. For larger photos of each contestant, click on their highlighted name and it will take you right to the CLEAVAGE CONTESTANTS GALLERY!
VOTE NOW! POLLS CLOSE AT NOON ET ON MONDAY, JAN. 25!
GROUP #1: