NEWS
Best Super Bowl Commercials of 2012: Brotherhood of Man, M&Ms & Weego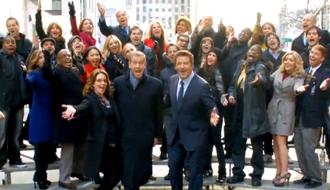 Super Bowl XLVI may have been a good game to watch, but how were those commercials? We'll admit we missed the tiny Darth Vader from last year's Volkswagen commercial, but this year wasn't without some winners. OK!'s picked our top five favorite commercials from last night's game based on entertainment.
Sure, Clint Eastwood's Chrysler commercial was powerful, and David Beckham's H&M ad was hot, but our top five had as laughing as the next commercial started to roll.
Article continues below advertisement
OK! GALLERY: MADONNA ROCKS SUPER BOWL XLVI HALFTIME SHOW WITH NICKI MINAJ, M.I.A, LMFAO & CEE LO GREEN
NBC aired an amazing Super Bowl ad with the casts from their hit shows singing "Brotherhood of Man" from the Broadway musical, How to Succeed in Business Without Really Trying. The casts participating in the commercial include: 30 Rock, The Office, Parks and Recreation, Community, Up All Night, Whitney, Are You There, Chelsea?, Law & Order: SVU, Today, Saturday Night Live, The Tonight Show with Jay Leno, The Voice, Parenthood, Celebrity Apprentice, Rock Center with Brian Williams, Late Night With Jimmy Fallon and their new show Smash.
We were very impressed by the group effort of this ad and their voices!
"Brotherhood of Man" ad from NBC
Bud Light's "Weego" commercial hit our soft spots with the dog element, but kept us laughing with the "Here We Go" joke. Weego just may be the new Uggie — so talented!
We're not exactly sure why the M&Ms "Dancing" ad made us laugh so hard. Maybe it was because it was M&M's...dancing. There's something about watching an M&M "wiggle wiggle wiggle" that made this commercial memorable.
Article continues below advertisement
This commercial was released before the big day, but we still had to include it in our top five. Matthew Broderick returned as Ferris Bueller for a "Matthew's Day Off" Honda ad.
"Matthew's Day Off" Honda ad from NBC
Last, but not least, Doritos had a very funny ad with an adorable baby. We're suckers for cute babies...especially when they're being slingshot in the air to snatch their brother's chips. Clever and cute.