NEWS
BET Host, DJ Megatron, Shot and Killed in N.Y.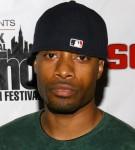 The hip-hop world received word of a tragic murder. Corey McGriff, also known as BET host and radio personality DJ Megatron, was shot and killed yesterday in Staten Island, N.Y. He was fatally shot in the chest when he walked to a store near his home. No one has been arrested yet.
OK! NEWS: WARREN G ON NATE DOGG'S DEATH – "I STILL DON'T BELIEVE IT"
The 32-year-old was most known for BET's "What's Good" segment. He was also a well-known personality on R&B and hip-hop radio stations in NYC and Boston.
Article continues below advertisement
OK! NEWS: DRAKE EXPLAINS "IT'S EASY TO LOVE ME NOW" TWEET
Mega's manager, Regg Rocc, released a statement to E! News: "Mega's family is grateful for all of the condolences and warm thoughts of his fans and friends. Please continue to uplift your prayers of support as an ongoing investigation is currently being conducted by law enforcement officials."