NEWS
Beth Stern on Babies, Commitment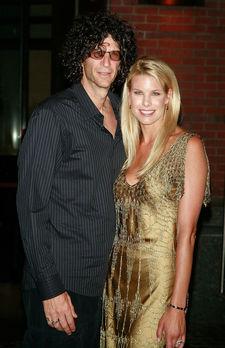 Howard Stern's new wife, Beth, is running the New York City marathon this weekend on behalf of the North Shore Animal League.
The couple, who married last month, are "parents" to bulldog Bianca Romijn-Stamos-O'Connell, who participated in the ceremony.
Has owning a pet prepared her for motherhood?
"Oh gosh, I can't even believe you're saying that," Beth, 36, tells me as if I caught her off-guard. "It's so funny. That was a shock! I never planned on having children, that's never been a desire of mine. I'm so in love with my dog and with animals and pets and rescue. I hope to have a house filled with animals more than I ever hope to have a child of my own.
Article continues below advertisement
All right, well, she dated Howard for eight years before getting him to commit. Can she share any tips for getting a confirmed bachelor to make that lifelong promise?
"Wow," she says. " I never wanted to get married. I never thought that was in my cards. I always thought I was just going to be an independent woman my entire life. Hopefully having a partner but never getting married. Howard was actually the one who wanted to get married. From the second that he mentioned it, I was all in. I was so excited. I don't know that I have any tips, it's just if something's meant to be, you should follow your heart. I'm doing something I never thought I would ever do, and it's just been the best part of my world. I'm so blissfully happy, and I can't imagine not marrying Howard. I'm so excited."