NEWS
Beth Stern's Tips For Marrying Well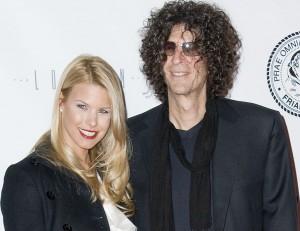 Being married to Howard Stern definitely has perks, wife Beth admits. But they aren't what you'd assume. The pet activist, 38, opens up about what it's really like being the wife of the shock jock, gives advice for choosing the right mate and beams when she talks about their expanding family.
When it comes to marrying well, Beth says it's important to be choosy.
"Don't settle for anything less than perfect," she tells me as she cradles North Shore Animal League Boston terrier Munchkin during the Celebrity Health and Wellness Pet Product Showcase held today at Intercontinental New York Barclay. "Howard's perfect, and I got a perfect guy."
Article continues below advertisement
She continues, "A lot of people think 'Oh my gosh, I have a great friendship, but maybe he's not the best lover, but we're best friends.' You can get the best lover and the best friend – you can get it all. Just don't settle for anything less than perfection. I believe that."
Marrying a famous, wealthy man was never the goal when she tied the knot in 2008.
"I fell in love with the person, and everything that comes along with it is added blessings, which I'm very grateful for, but I think the guy is the most important. You take what they have to offer."
One trait they both share is a love for furry friends.
"We've been together almost 12 years now, and every day with Howard is a dream come true for me. He makes me laugh, he cares so much, and he's so passionate about animals. That's one of my favorite things."
Their home includes their English bulldog Bianca, 9, and two new cats rescued from North Shore Animal League named Walter, 5, and Apple, 4.
"We're all getting along great. We're one big, happy family right now."
Article continues below advertisement
And, the dog gets along well with the feline additions.
"Bianca is kind and has a big heart. She's great with them. Everybody's doing well."
What's a precious moment she can share?
"It was cute," Beth says. "Howard got a new Apple computer, and he was sitting at his desk. There was Bianca at his feet, Walter on his lap and Apple sitting on the keyboard. It was a precious sight for me. I got a great picture of it."
Because her pets are "great," she never needs to discipline them, although sometimes they need baths.
"I bathe Bianca all the time if she's stinky," she says. "I think Walter the cat stepped in something one day, and I put his paw under the water. He was annoyed with me. Cats are generally clean. They take care of themselves."
Indeed, life is good for the lucky dog and cats that call Beth and Howard their owners.
Article continues below advertisement
"We smother them in kisses and give them all the love in the world, especially the rescues from North Shore, because I don't know what their lives were like before they came to us. Howard and I give them so much love."
She continues, "Especially the rescues from North Shore, they're so appreciative, and you save lives. It's so wonderful. Bianca's my partner in everything I do. I wake up to her and go to bed with her. She's the best. My husband and I adore our animals and are so passionate. They've given us so much love – they've given us so much."
For Beth, life with Howard couldn't be more serene.
"The wildest thing about our relationship is that we're not wild at all. We go to bed at 8:00 every night, and even on weekends, too. There's nothing wild. Anybody that knows me or Howard knows that wild is not a word that describes him. Maybe on the air, but not at home."
Here's my pic with Beth: