NEWS
Bethenny Frankel Appreciates Gift of Baby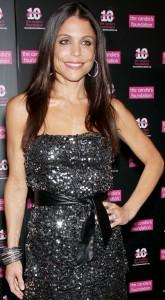 When Bethenny Frankel's daughter Bryn turns 1 on Sunday, she'll get A-list treatment even though she won't remember it.
"We are having a birthday party for Bryn at Dylan's Candy Bar," she tells me at The Candie's Foundation's 10th Anniversary of the Event To Prevent held this week in NYC. "Just because I don't like my birthday has nothing to do with her, and I want her to have the pictures later to see all the balloons and how fun it was."
Article continues below advertisement
But that's not all the reality star and hubby Jason Hoppy have in store for their little girl.
"We'll walk around downtown. Hopefully it's nice out. We'll probably go get some sangria, take the baby, go to a swing set and just have lunch outside."
Tonight Bethenny serves as an auctioneer dishing up humor in a bid to raise money for the cause, riffing on Bruno Mars lyrics, offering to strip, and saying "I spent my entire single life begging for money."
Preventing teen pregnancy is a cause Bethenny cares about deeply.
"A teenage girl is not responsible enough to have a baby emotionally, financially, and it's not giving yourself the best shot at life, nor your baby," she tells me. "It's selfish, it's irresponsible and it needs to be something that more awareness is brought to. I think television is glamorizing it now, which is a disservice."
She adds, "I haven't watched Teen Mom, but I can only imagine it glamorizes something that is not glamorous because the girls are on a lot of magazines, so it makes people want to be like them, which is a terrible thing."
Article continues below advertisement
What prevented her from becoming a teen mom?
"Luck. Probably luck. It certainly wasn't a condom – it was probably luck."
Bethenny is certainly thrilled that her daughter came along later in life.
"My daughter's turning one year old on Mother's Day, and I'm a 40-year-old mother," she says. "I appreciate the gift of my baby, and the responsibility and what it means to be a mother. The Candie's Foundation is incredible because your have to be emotionally prepared and financially prepared. You have to be prepared for responsibility."
Here's my pic with Bethenny:
Pick up the OK! on newsstands now for Bethenny's weekly column. The cover line is Osama Bin Laden/"Justice!"