NEWS
Bethenny Frankel: Former Hilton Chef & Chauffeur?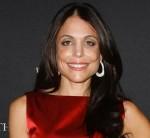 Reality star Bethenny Frankel is now a successful businesswoman, wife and mother. But before Real Housewives of New York launched the chef to fame, Bethenny worked some not-so-glamorous jobs for a very glamorous family.
Real Housewives of Beverly Hills star Kyle Richards recently dished to the New York Post about meeting Bethenny 20 years ago.
"She was the hostess at a restaurant in Beverly Hills." Kyle began before hesitating, "She'll probably kill me for saying this."
Article continues below advertisement
OK! NEWS: 'REAL HOUSEWIVES' SPILL TO OK!: TERESA GUIDICE TALKS SPIN-OFF & HALLOWEEN
"I was having lunch one day and she plopped down right next to me and said, 'Do you use Lancôme eye makeup remover?' Turns out she was dating my ex and the Lancôme was in his apartment. We started laughing and became friends. Then I got her a job with my sister driving Paris and Nicky to school," Kyle spills.
That's right. Bethenny, who created the entire Skinnygirl empire and is one of the most beloved reality stars of the decade, once chauffeured socialites Paris and Nicky Hilton to and from school!
OK! NEWS: BETHENNY FRANKEL: "I DON'T WANT TO GO BACK" TO 'HOUSEWIVES'
Bethenny soon worked her way up to cook for the Hilton family, as well. Bethenny then added Alicia Silverstone and Mariska Hargitay to her celebrity client list before turning her focus to reality TV and appearing on The Apprentice: Martha Stewart a few years prior to finding her home on Bravo.
For someone who's lived her whole life on reality TV for the past couple years, Bethenny never fails to surprise us!