NEWS
Bethenny Frankel's Tasty Treat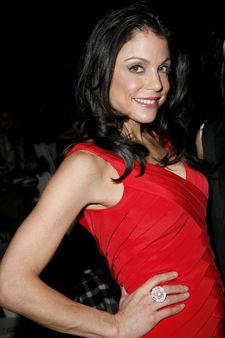 Bethenny Frankel has a lot on her plate these days, but this reality star of Real Housewives of New York City found time to stop by the OK! offices in midtown Manhattan to celebrate Cinco de Mayo with her Skinnygirl margaritas. OK! got the exclusive first taste of the the "guilt-free" margarita that's only 96 calories per serving. No mixing or shaking involved. Just open the bottle and pour over ice. Tasty!
Article continues below advertisement
How did you come up with the idea of launching the Skinny Girl margarita?
Everybody wants to drink a margarita but they don't because of the calories. I could never find a signature cocktail. I never liked any of the cocktails that weren't really fattening so I created the margarita you can trust. When you taste a margarita made with dark tequila and loads of sugar, you taste it and you know you're drinking a dessert. It's just exactly a tiny hint of sweetness so you feel like you're indulging, but its authentic enough to really be a margarita. It's clean enough that you really do trust it.
Who were you excited to see at the Met Gala after-party?
I'm always excited to run into Anne Hathaway. Anne and Kate Hudson, the Skinnygirl margarita is their favorite drink. Anne looked the best out of anybody the entire night. She looked like rock and roll couture. She looked amazing. She usually looks so sweet and princessy. It was very edgy but beautiful.
Switching gears to the finale of Real Housewives of NYC, you and Jill had some tension, is everything smoothed over now?
Article continues below advertisement
We smoothed things over. Jill was wrong and she apologized. Usually I'll meet someone halfway, but she was wrong. I wish I hadn't brought it up there, at the event, but my content was 100 percent on, my delivery was not. Jill was 100 percent wrong in this situation and talking behind my back.
What's your relationship with Kelly now, do you have a relationship?
I do not. I don't know that anyone has a relationship with Kelly. Even Kelly doesn't have a relationship with Kelly.
Why do you think that she just didn't connect with everyone?
It's Kelly time. Kelly's time is different than everyone else's time.
Was anyone happy about her joining the cast?
I think that everyone liked the recipe the way that it was and didn't think that it needed any extra ingredients.
Is there anyone that you or the other women would like to see join the cast?
I think everyone thinks it's the perfect recipe. It's not like we all love each other but we at least we all respect the fact that the five of us together were great. It was great the way it was. But I don't think that it'll stay that way. I can't imagine anything changing with the cast, but its hard to juggle six people so that makes me wonder. Kelly has expressed passionately that she wants to stay.
It's good TV to keep her.
Right, viewers love to love her and love to hate her. It takes you back to high school and all our viewers went to high school.