NEWS
Bethenny & Kelly: Rumba Rivalry?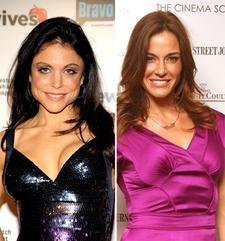 On Dancing With the Stars you not only need to know your way around the dance floor, but a background in reality TV could come in very handy as well. It comes as no surprise then that Bethenny Frankel, who's been on The Apprentice and The Real Housewives of New York City, is interested in learning to rumba.
"I'd be the triple-crown reality loser," Bethenny admits to E! News. "But it looks like a good challenge, so yes — yes, I would definitely do it."
Article continues below advertisement
And in the other corner, some of her old competition could come back to haunt her!
"I love to dance and I think it would be so amazing," Kelly Bensimon says. "It's out of the box for me, but I think it would be really fun."
A salsa showdown at the DWTS corral, that's what we want to see!