NEWS
Betty White, Sarah Palin Face Off With 'SNL' Stars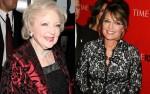 Although Taylor Swift, Demi Moore and Ashton Kutcher, Nick Cannon, Ben Stiller and Glee's Lea Michele's are in the house, Betty White and Sarah Palin are all the rage during the Time 100 Gala, which takes place Tuesday at NYC's Frederick P. Rose Hall.
The Golden Girls icon, 88, is set to host Saturday Night Live this weekend.
"It's a lot of fun," the joyful actress says of rehearsals.
What dreams does she have left?
Article continues below advertisement
"I'd love to work with Sandra Bullock," Betty says.
Indeed, the cast of Saturday Night Live is thrilled to be in her presence.
What's the sexiest thing about her?
"Her comedic timing," Seth Meyers says.
"Her legs!" Andy Samberg yuks.
"Just the way she dresses," SNL creator Lorne Michaels says with a smile, adding that she's "gracious."
Awkward alert! SNL punching bag Sarah Palin, 46, is ready for her closeup. (Whew – Tina Fey is not invited, and neither is Katie Couric.) She's pretty, and super sweet. The accent is just as folksy as expected.
Who is she wearing?
"Paige Adams," she says as she poses with young daughter Piper and hubby Todd. "My daughter's wearing Sears."
Even though daughter Bristol Palin, 19, breezed through alone earlier, Sarah beams with pride about the single mom, who leaves 16-month-old son Tripp for the night.
"I am very proud of Bristol," Sarah says. "To take responsibility and to be quite independent and strong and know that she's no longer living her life for herself but for another human being – I'm very proud of the discipline she's shown."
Article continues below advertisement
Having her family with her tonight means everything to the former vice presidential candidate turned Fox News host.
"My family is my world," Sarah says. "I breathe them. They are extremely important to me."
But Sarah's not the only SNL-spoofed star set to encounter the people who made them parodies during this event.
"Of course I watched them," Suze Orman says of getting the sketch treatment from Kristen Wiig. "This last one, I have to tell you, two weeks ago, I didn't understand, so I'm sitting there going 'I don't get that joke.' People around me are like 'oh Suze!' Hey, she can do anything she wants, anytime she wants, and it's fine with me."
Here's my pic with Seth Meyers: