NEWS
Beware of Christian Bale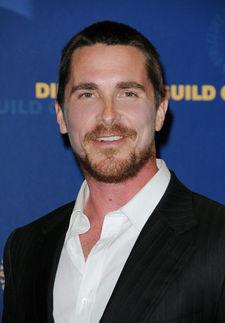 Christian Bale may be hot, but his simmering rage makes him scary. Six months after he was cleared of verbally assaulting his mother and sister, the 35-year-old actor was caught on tape threatening the director of photography on the set of Terminator: Salvation.
I didn't need these tales to teach me to beware of his temper.
When I first meet Christian in June 2006 during the Rescue Dawn junket, I experience his wrath up close when I ask about his favorite meal his wife cooks for him.
Article continues below advertisement
This should have been benign: He married Sibi Blazic in 2000, and they have a daughter, Emmaline, 3, together.
He stares at me for a few beats before snarling, "I've got no idea. I've never been asked that. Just put down maggots. Live maggots."
Luckily, there are about four others in the hotel room at NYC's Regency Hotel when his demeanor turns surly, but I'm the one sitting beside him.
Deeper into the roundtable interview, I take another shot. "Why do you and your wife make a good couple?" I ask him.
"I don't really want to be talking about that," he replies.
All right, how about the less-personal secret to a happy marriage? I'm flexible…
"Ha ha ha," he cracks. "Who am I, Dr. Ruth? I'm not really going to answer."
Even as he goes crazy on me, I could still see the appeal in his sparkling eyes. I had no idea he would be so volatile!
"Do you like angry men?" a friend asks the next time he freaks out at The Dark Knight premiere in July 2008. Um, no, I don't think so.
Article continues below advertisement
This time I ask him what his wife and child think of him playing Batman.
"They laugh at it," Christian tells me calmly, with that knowing glint in his eyes. I can tell he knows I look familiar, but he doesn't know why.
"They get a great kick out of it, but ultimately I'm just husband and dad to them. They find it funny."
Moments later, another reporter I know catches him at the end of the line and asks if Heath Ledger will get an Oscar nod for his role. (He did!)
"Anybody's an a******, who would try to predict that," he responds.
When a TV crew lobs a softball question his way, he says, "I don't give a f***." (Usually celebs are on their best behavior for the cameras, so this is rather shocking.)
And when asked about how he gains and loses weight for his roles, he also lashes out.
After all these embarrassing public displays, hopefully Christian will find a better way to manage his anger.