NEWS
Beyoncé Debuts Ballad "1+1" on 'American Idol' Finale!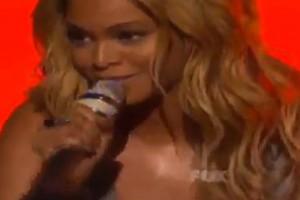 Beyoncé rocked the American Idol stage twice last night — first delivering an energetic performance of her mega hit "Crazy in Love" with the girls of the top 11 followed by a softer performance of her newest single off her album 4 — "1+1."
B sings, "Hey! I don't know much about guns but I ... I've been shot by you/ Hey! And I don't know when I'm gonna die, but I hope that I'm gonna die by you/ Hey! And I don't know much about fighting, but I, I know I will fight for you/ Hey! Just when I ball up my fist, I realize that I'm laying right next to you."
Article continues below advertisement
The chorus is simple and the songstress serenaded the audience and millions at home with her words "Make love to me."
The ballad is the second single Beyoncé released from 4, which hits stores on June 28.
The Grammy winner served as a mentor on American Idol this season as well.
Catch both of Beyoncé's Idol moments below! Do you like her new single? Sound off in the comments!