NEWS
Beyoncé "Hearts" OK!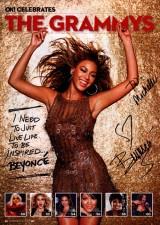 Right now, Beyoncé is the Queen of the Grammy kingdom, after taking home six awards at last weekend's music ceremony. The powerhouse songstress sparkled on the red carpet and delivered an energetic performance, covering Alanis Morrisette hit "You Oughta Know." When Beyoncé sat down for an exclusive interview with OK!'s Michelle Edgar, the beauty signed her famous John Hancock on the Grammy pages of the magazine to show her love for OK!.
Article continues below advertisement
Beyoncé is a jack of many trades, with numerous No. 1 albums, her own clothing line House of Deréon, and now her own perfume, "Heat," which she launched this week.
OK! HOT GALLERY: BEYONCE BRINGS "HEAT" TO FRAGRANCE
B definitely shared the spotlight with some of music's other leading ladies on Grammy night, and says she appreciates Lady Gaga's bold, outlandish style.
"It's refreshing to see someone who has so much guts," Beyoncé said. "She actually is a student of fashion design, and has a style all her own. I just finished the video with her, and it was so much fun — not to play it safe, just to go with something, and take it as far as you want."
OK! NEWS: BEYONCE SHOCKS HUSBAND JAY-Z WITH AN EMOTIONAL GRAMMY SHOUT OUT
Beyoncé also opened up to OK! on some of her favorite behind-the-scenes moments with her former girl group Destiny's Child.
"Our ritual, after a show, would be to have our own 'after party' on the tour bus, and we would play the song 'Remix to Ignition' that goes 'after the show was the after party' and this was before Jay and I started dating," Beyoncé shared. "We used to play that song again and again, and dance to this corny choreography together, laugh, and then go to sleep. Those little moments on the tour bus meant so much to me."
As far as her former groupmates Michelle Williams and Kelly Rowland, Beyoncé has nothing but respect for them.
"Michelle is hilarious, and always says the silliest things at the craziest moments, and Kelly is always so neat and tidy, and she'll give you the clothes off her back since she's so sweet and genuine."