NEWS
Beyoncé & Her "Great Man" Jay-Z Have Been Blessed With "The Ultimate"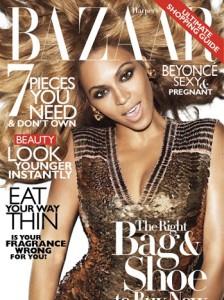 Beyoncé is ready to run the parenting world with her partner in life Jay-Z. The hot mom-to-be opens up in the new issue of Harper's Bazaar about her marriage and preparing for motherhood.
OK! NEWS: BEYONCÉ'S BABY DUE IN FEBRUARY — "I'M SO HAPPY"
"We have been together since I was 20 years old," Beyoncé, 30, tells Harper's Bazaar about her husband Jay-Z. "We took our time and developed an unbreakable friendship before we got married."
Article continues below advertisement
And the mom-to-be really looks up to her husband.
"I admire his ability to inspire others. To me, Jay represents the American dream. Jay's music has helped define our generation," she explains. "All that he has overcome and worked to achieve gives millions hope that they can become whatever they want to be. I respect him so much; he is a great man and a great artist."
But she does admit that marriage takes work.
"We focused three years on our marriage and found that it brought us an even stronger bond and connection. But like anything great and successful in your life, marriage takes hard work and sacrifice. It has to be something both you and your husband deeply want," she says. "The best thing about marriage is the amount of growth you have because you can no longer hide from your fears and insecurities. There's someone right there calling you out on your flaws and building you up when you need the support. If you are with the right person, it brings out the best version of you."
OK! NEWS: WATCH SNEAK PEEK OF BEYONCÉ'S "LOVE ON TOP" MUSIC VIDEO
And now, Beyoncé feels like she is her best version and is ready for motherhood.
"It was important to me that I gave myself time to focus on becoming the woman I want to be, building my empire, my relationship, and my self-worth, before I became a mother," she says. "Now God has blessed us with the ultimate."
The new issue of Harper's Bazaar hits newsstands on Tuesday, Oct. 25!