NEWS
Beyoncé & Jay-Z Definitely Make a Great Aunt & Uncle Team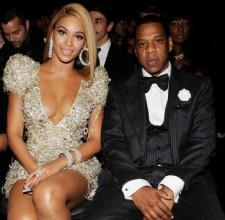 Beyoncé Knowles may not have any children with her hubby Jay-Z just yet, but by the way she and Jay-Z care for their nephew, perhaps they're practicing for when they have a child of their own! Beyoncé's sister Solange Knowles sang her sister and brother-in-law's praises as aunt and uncle to OK! recently, saying they're both very good, except maybe when it comes to bedtimes!
OK! NEWS: 2010 GRAMMYS: A RECAP OF MUSIC'S BIGGEST NIGHT; TAYLOR SWIFT & BEYONCÉ REIGN
Article continues below advertisement
Solange chatted with OK! about how her sister is an aunt, and although she doesn't know if Beyoncé wants to have a baby, she certainly sounds like she's ready for one!
One particularly sweet moment at the Grammys this year was when Beyoncé's nephew, Daniel, was pulled up on the stage with Jay-Z and Rihanna. When he was asked if he wanted to say anything, he very politely said, "No, thank you."
"I was a proud mom that he used his manners," his mother Solange told OK!. "Because anything could have come out of that mouth."
Having her young son put on the spot and not knowing what he would say was an anxious moment for the mother!
OK! HOT GALLERY: JAY-Z JETS TO LONDON
But her son was in good hands as his aunt Beyoncé's guest.
"Very good. She's very hands-on," Solange said of how Beyoncé is as an aunt. "I've had two weekends where I've been able to hand him over, and it's been very nerve-racking for me, but she does a great job. The bedtimes we got to work on.
Article continues below advertisement
"Sometimes I'll call expecting him to be asleep, but he's still up," she adds on how her sister lets Daniel stay up too late.
Even she admits, that's kind of what aunts are for!
OK! NEWS: BEYONCÉ "HEARTS" OK!
As for Jay-Z?
"Very good uncle," Solange said, adding that he's a "pretty cool" uncle to have.
Beyoncé and Jay-Z have so much fun caring for their nephew that they actually like it when they get to watch him for a weekend.