NEWS
Beyoncé Suffered a Miscarriage? Jay-Z Releases New Song After Birth of Daughter Blue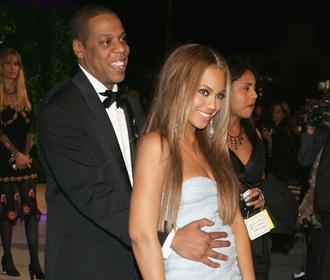 In celebration of the birth of his daughter, Blue Ivy, with Beyoncé, Jay-Z released a new song on his website today. Warning! You may want to grab some tissues!
OK! GALLERY: BEYONCE FEARED NYC CONCERTS WOULD REVEAL HER BABY SECRET
Beyoncé and Jay-Z welcomed the birth of their first child together at Lenox Hill hospital in NYC over the weekend. The couple kept the birth as secret as they could, but Jay-Z couldn't help but express the love for his daughter in a new song.
Article continues below advertisement
The proud father posted the song, titled "GLORY feat. B.I.C." on his website today and the lyrics are very revealing of the struggles he and Beyoncé went through to conceive Blue.
"False alarms and false starts, all made better by the sound of your heart." He says adding, "last time the miscarriage was so tragic."
OK! NEWS: BEYONCE & JAY-Z'S DAUGHTER BLUE IVY — THE MEANING BEHIND THE NAME!
And Jay-Z also shares where his daughter was conceived rapping, "You was made in Paris."
The name Beyoncé and Jay-Z gave their daughter has turned some heads but if you can't beat them, join them. Jay-Z made a pun on Blue's name rapping, "Baby I paint the sky blue, my greatest creation was you."
"The most beautifulest thing in this world, she's daddy's little girl."
Too cute!
Listen to the song, HERE!