NEWS
Beyoncé's VMA Baby Bump Reveal Sparks Animated Birth Video With Jay-Z & Kanye West!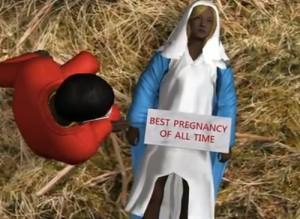 Taiwanese master creators NMA.tv — known for their very literal interpretations of big pop culture events, such as Lindsay Lohan's trial and most recently a video dedicated to Apple mastermind Steve Jobs — are taking on the media frenzy surrounding Beyoncé's big baby bump reveal at the 2011 MTV VMAs Sunday.
During her VMA performance of new smash hit "Love on Top," Beyoncé declared "I want you to feel the love that's growing inside of me!" and ended her energetic stage antics by rubbing her belly.
Article continues below advertisement
And NMA.tv took it one step further, showing a depiction of the 29-year-old Grammy winner giving birth!
Some of the highlights — Beyoncé giving birth in a manger, fighting with rap superstar hubby Jay-Z over what to name their little bundle of joy and teaching the baby how to do the famed "Single Ladies" dance.
Even Kanye West — who reportedly wants to be the baby's godfather — makes a cameo.
Catch the hilarious (and bizarre) clip, via NMA.tv, below.