NEWS
BGT Judge: Susan Boyle a Phenomenon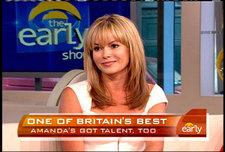 The worldwide YouTube sensation that is Susan Boyle, a contestant on Britain's Got Talent who has captivated millions for months, is also a person who just isn't used to the spotlight. The Scottish singer checked into a clinic after her second-place finish on the show.
"I just think she needs a little bit of time out of the spotlight, and then she can actually maybe sit back and relax and enjoy what's happening to her," judge Amanda Holden says during an appearance on CBS' The Early Show. "Because surely she's the biggest and best loser of a talent show in the world."
Article continues below advertisement
Susan's voice coach Fred O'Neil agrees that the pressures of such a huge competition might have finally gotten to his friend, adding, "It was just when it kicked off into this massive YouTube, global attention that I was starting to worry. You know, around her house, there was like an absolute media circus. You really couldn't even drive down her street."
Amanda agrees, adding that probably nothing could have prepared the world for the reaction Susan created.
"To be absolutely honest, obviously, when you sign up for a show like Britain's Got Talent, there is nowhere in the contract that says, please be aware you may become a worldwide phenomenon and have 200 YouTube hits," she explains. "I don't think there is anything that can prepare anybody, even the producers of our show, for the phenomenon that was Susan Boyle. It was an incredible experience."
Her voice coach thinks her inner strength will win out and allow her to rally from whatever comes her way.
"I've seen Susan in different states of upset over the years, and she's a strong woman, inside of herself, and I do think she can recover from this," he says.
Get well soon, SuBo!