NEWS
Big Edie vs Little Edie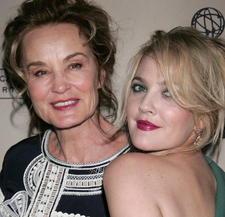 There's nothing like a little cast competition to add to all the buzz surrounding the success of HBO's Grey Gardens – Page Six reports that movie executives were angling to set Drew Barrymore, who plays "Little Edie," forward for the Best Actress in a Movie or Miniseries Emmy nomination, and have Jessica Lange ("Big Edie") go for Best Supporting Actress, so as to avoid vote-splitting.
Not gonna happen, says a source, who explains that Jessica wasn't about to play games with her award chances.
Article continues below advertisement
"Her immediate reaction was that she's won two Oscars, and that she has equal screen time to Barrymore," and insider tells the column. "She felt she wasn't a supporting character in the film, and that it'd be dishonest and a manipulation of votes. She didn't want a part of it."
It has now come down to both the actresses going for the big prize, which HBO is on board with after much discussion. Noms won't be announced until July 16.
"Now we have a scenario where either Lange will go home empty-handed, or neither will win," says the source. "It's unfortunate."
A spokeswoman for HBO tells Page Six, "Both performances have been widely praised and critically acclaimed. We are thrilled with the reception that Grey Gardens has received. HBO would never presume to dictate which category an actor chooses for award submissions. We do engage in a dialogue with actors and filmmakers to facilitate the process, but the actor's decision is always final."
Jessica's rep adds, "Prior to the decision being made, there was lots of discussion between Drew, the studio and Jessica. Obviously people wanted a scenario where everyone was happy. At the end of the day, HBO was the one who looked at the screentime and made the call."
GREY GARDENS PREMIERE: