NEWS
'Big Love' Series Goes Out with a Bang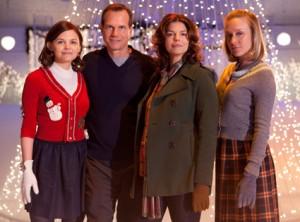 Calling all Big Love fans! Last night HBO pulled the curtain on its family drama after five seasons. In cased you missed it and forgot to TiVo, here's a recap of the Hendrickson clan. Find out more after the jump!
OK! VIDEO: WATCH KATE HUDSON & GINNIFER GOODWIN IN SOMETHING BORROWED TRAILER
Bill Paxton's character, Bill Hendrickson, kicks the bucket! He dies a martyr as reported by E! Online. He's confirmed as the heavenly father to a new church of Mormons. As for Jeanne Tripplehorn's character, Barb, she'll continue to be the consummate wife and mother in addition to leading believers after his death.
Article continues below advertisement
OK! GALLERY: GINNIFER, FILL, JEANNE & CHLOE BRING BIG LOVE TO SEASON 5 PREMIERE
So, how about Chloe Sevigny's character, Nicki? For a brief shining moment she learned how to be kind and it looks like Cara Lynn (played by Cassi Thompson) will make it after all.
Moving right along, Ginnifer Goodwin's character Margene finally found a purpose in life! She has decided to help others on the mission. Amanda Seyfried, better known on the show as Sarah, and Aaron Paul, a.k.a. Scott, are now living happily ever after, baby and all.
What did you think of last night's series finale? Will you miss the show now that it's officially off the air?