NEWS
Bigger Isn't Better for Jenny McCarthy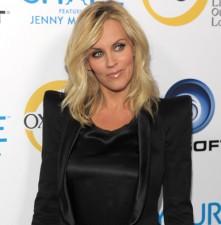 While some women go a bit crazy when it comes to breast implants, getting bigger boobs with each subsequent surgery, Jenny McCarthy had her breasts redone to make them smaller, she admits to Extra. "Women have to get their 'tires rotated,' so to speak, every ten years, so I never had them fully removed, but I had them taken out and replaced only because I couldn't fit into normal dress sizes," she explains.
Article continues below advertisement
One reason Jenny decided to downsize was the restrictions imposed on her wardrobe by her chest.
"I had to buy dresses in a bigger size and have them taken in so I just decided to get them taken down a bit," she reveals. "The boobs got a little droopier because of it, so there is a yin and yang to everything. But I feel better in my clothes."
Jenny feels so confident in her 37-year-old body that she admits she'd take it all off for Playboy again, if they come calling!
"I would absolutely pose for Playboy," she says. "I would be so flattered if they asked me. It's probably not going to happen, but I think I want to do it again."