NEWS
The Biggest Loser: Carla and Joelle Speak!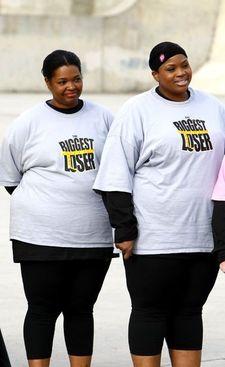 It's been two weeks since The Biggest Loser's Silver team, Joelle and Carla, got the boot from the ranch, and revealed in their Biggest Loser transformation video that they're still not speaking.
Come on ladies, are you really going to let a few (hundred) pounds stop you from being pals? I had to know for myself, so I rang them up (separately, of course!) to get them to weigh in on their friendship.
Article continues below advertisement
According to Joelle, their union was already on thin ice before the show started.
"We had challenges in our friendship before the show. We weren't speaking," she admits. "I found out that we had made the show and talked to my family. This chance was greater than our bickering. We decided we would try to work past this."
Things got more complicated on the ranch. While Joelle says she struggled with Carla's coaching and bickering, an act she calls "degrading," Carla began to feel that that Joelle, who had auditioned for The Biggest Loser before on her own, may have seen herself more as a lone competitor than as a team.
"She had been trying out since season four and then invited me to get on," Carla explains. "Now that you're here, you don't want me as a teammate? That's why I said this is a test of our friendship."
As for deciding who went home after the first week, the gals' reasons again differ.
Carla says that Joelle wanted to stay on the ranch to prove should could accomplish something. Joelle admits she was going through a tough time. "I had lost a business and moved back home, I wasn't dating, it was difficult," she confesses?.
Article continues below advertisement
But Joelle adds in the end, it all came down to the numbers. "We had this unstated goal whoever lost the most weight on the scale had talking rights, and I lost 13," she explains. "Then they gave us that announcement that nine people had to go … I said to myself, why don't I stay and fight?"?
So where do the ladies stand now?
Carla hopes the friendship can be salvaged. "We've talked a little. I've reached out to her," Carla says. "I'll continue to support her in whatever it is that she wants to do, and my door is always open to her. It's up to her if she wants to come in."
As for Joelle, "There comes a time when you have to evaluate the relationships in your life, are they positive or are they toxic," she points out. "We're still connected and we're working on it, but for my personal growth, I'm giving it some space right now."
Let's hope these ladies can continue to drop the weight – and the baggage – and emerge as Losers and friends.
The Biggest Loser airs Tuesdays at 8 p.m. on NBC.