NEWS
'Biggest Loser' Host Gives Family Food, Fitness Tips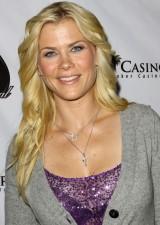 Alison Sweeney is a busy mom juggling two careers as host of The Biggest Loser and actress on Days of Our Lives, but she manages to make time to squeeze in a workout and make sure hubby Dave, son Ben, 4, and daughter Megan, 10 months, eat healthy.
How on earth does the superwoman, 33, incorporate fitness into such a hectic lifestyle?
"The easiest excuse is 'Oh, I'm so busy. Oh, I have two kids. Oh, I'm the sole supporter,'" she tells me this week during the Crest Glide Floss event held in NYC's Union Square. "There's always going to be a reason not to do it. You have to make a choice that it is important, and it isn't just a luxury. You can't keep looking at fitness as 'oh, it's to make me look beautiful or make me look skinny.' You have to look at it as 'it's to help me be healthy, so I'm around for the rest of my life for my family, my kids and people who love me, and so that I can be fit and healthy while I do it.'"
Article continues below advertisement
She continues, "When you change that mind thinking, it changes your priorities of how you can make time to make it happen. For me, I look at it that way – as an investment in my own future, and to be with my children – and I look it as being a good role model for them. That helps me make the choice on a Sunday morning to get up at 7, and go for a run. I know I won't be home when my kids wake up, but I tell my husband in advance that I'm going to go really early, and then when I get home, I'll bring fresh fruit from the Farmer's Market and surprise everybody. And my kids know I'm going to the gym because it helps me be healthy. My son talks about exercising, and I teach him to do stuff. I try to incorporate them in my workouts, too. That helps when I go for hikes to include them. It's about considering it a healthy choice, not a selfish choice."
Getting Ben and Megan to eat healthy is a trait she instilled in them from the time they were very young.
"It's really important to lay that groundwork of 'you'll eat what I made you, and you're going to eat your broccoli because I said so,'" she tells me. "Now, at the same time, it should taste good. I try not to just buy frozen dinners, or to boil vegetables in a pot. You have to make it crisp, and you have to make it flavorful."
Article continues below advertisement
She would never consider her cooking to be boring.
"I make sure that I flavor my food for my kids, just like I would want basil or something interesting like rosemary and carrots together," she says. "Or cinnamon in my oatmeal. There are little things you can do to make food that much more tasty and flavorful. Cilantro is one of my favorite herbs. I incorporate it in a lot of my cooking – in my eggs, when I make Ben scrambled eggs. Stuff like that makes a huge difference, and makes kids a lot more amenable to tasting it."
She continues, "Of course, cheese is a big advantage, too, but I try to keep cheese on the low, but like a little bit of it sprinkled on top. My son likes salty cheeses, so he's a fan of bleu cheese or feta. That's something that's a really strong flavor, so you can just use a little bit of it, and it goes a long way."
Why, hello! Alison breaks away when she is captivated by a group of businessmen strolling by, who eagerly step up to the Tight Space Challenge obstacle course. One by one, they slide and glide through a mouthful of dangling oversized teeth. For every person who participates, $1 goes to Feeding America with a guaranteed donation of $20,000 to help more families have food on their table this coming holiday season.
Parting gifts include Crest Glide Deep Clean floss (four packs!), Coby mini digital camcorder and gift certificate for a personal trainer at NYC Boot Camps -- all stuffed inside a blue-and-white L.L. Bean Boat and Tote bag. Hooray!
Crest Glide is encouraging others to Tweet about tight spaces on Twitter. Tell Glide about the "Tight Spaces" in your life using the hashtag #GlideTightSpaces. For every person who Tweets with the hashtag #GlideTightSpaces through December 31, Crest Glide will donate $1 to Feeding America.