NEWS
'Biggest Loser' Winner Olivia Ward: "It's Fun to See People Check Me Out in the Street"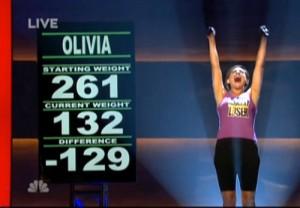 After 20 weeks of competition on the Biggest Loser Ranch, it was the longest season of The Biggest Loser: Couples ever. In the end, a pair of sisters landed on top to compete for the winning prize — Hannah Curlee and Olivia Ward.
Hannah, 32, dropped 120 lbs, or 48.39 percent of her total body weight. In order to beat her, Olivia, 35, had lose more than 126 lbs. And when she got on the scale, she lost 129.
Article continues below advertisement
But everyone went home a winner. Olivia lost nearly half her body weight and now she has $250,000 for the next stage of her life.
"It's so surreal," Hannah told OK! after last night's finale. "I can't believe it. And to be here with my sister, I just can't tell you how special this is. This is an experience I will remember for the rest of my life. I felt so beautiful tonight. And I am ready for my new life. This is going to be so much fun. I'm ready to find love, date, whatever — bring it on."
For Olivia, the whole Biggest Loser experience has given her so much confidence.
"I can hold my head up high and feel good about myself and that is just so important to me," Olivia told OK!. "It's overwhelming to be here tonight and have this experience with my sister. My husband was so inspired by me, he's lost 113 pounds as well, and our relationship has really gotten stronger as a result of this process. And it's fun to see people check me out in the street."
Article continues below advertisement
How did Olivia pull through?
"I tried so hard for years with all different types of diets. When I got to the show I said, 'You know what? I really don't know how to do this,' " she explained. "But I followed every single thing Bob Harper and Jillian Michaels told me to do, and it worked for me. They are experts for a reason."
As far as over-indulging and staying away from fatty foods, Olivia shared, "I don't want to restrict myself too much, but I love french fries. I will only let myself have that very occasionally."
"I just want to maintain what I have and eat healthy," she said. "And exercise an hour a day, five or six days a week. Every day it's a choice, but I am willing to do whatever it takes to have it happen, as I want to be healthy for the rest of my life."
Trainer and life coach Bob was glad to see the sisters win.
"I love that they won," he told OK!. "They really came from behind and no one saw them coming — I just couldn't be happier. Both of their bodies look incredible, and the makeovers we did on them were amazing, too."
Article continues below advertisement
This season of TBL marks Jillian's last time as a coach, and while she will be missed, she is looking forward to the next step — co-hosting on the show The Doctors.
"My job as a co-host is to do more emotional work with people and Dr. Phil will use me as a life coach and a nutrition expert," she told OK!. "All of that will be so much fun! Dr. Phil is the ultimate mentor, I love him! I have been close to his family for years. I am so grateful."
Watch the Olivia's big winning moment, via TV Squad, below!
FOR MORE ON BIGGEST LOSER OLIVIA'S JOURNEY & HOW SHE LOST 129 LBS, PICK UP THE NEW ISSUE OF OK!, ON STANDS EVERYWHERE THURSDAY!
Reporting By Susan Hornik