NEWS
Bijou Phillips Enjoys Cabo San Lucas – Alone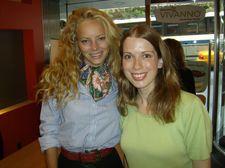 Although Bijou Phillips recently announced her engagement to Danny Masterson after four years of dating, she says her best vacation was in Cabo San Lucas – alone.
"I went there by myself for three weeks," the actress, 27, tells me. "It was amazing. I just drove. I had a stick-shift car and I raced it all over the place. I sang at this jazz club periodically while I was there, and made a bunch of friends. I swam in the ocean and read a ton of books. It was a good three weeks of just doing stuff for me and it was awesome."
Article continues below advertisement
When she's with Danny, 33, they enjoy seeing movies.
"We love each other," Bijou says. "He's great. He's a good guy."
SEE MORE PHOTOS IN THE VALERIE GALLERY: