NEWS
Bikini-Body Countdown: Week 5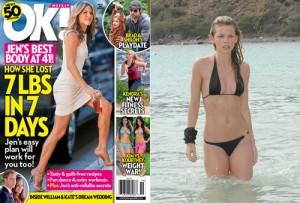 Want to get your body ready for bikini season, just like 90210 starlet AnnaLynne McCord? Take a few tips from OK! as we count down the 10 weeks before you hit the beach, with tips and tricks from the experts for getting that bikini body you've always wanted!
BIKINI-BODY COUNTDOWN — WEEK 6
Diet: Cut the Bad Fat
"Eliminate red meat and any other meats that are smoked, fried or processed. Half the fat in these is saturated," says nutritionist Oz Garcia, whose client list includes Hilary Swank. "Saturated fat takes the body longer to convert into energy, so it ends up stored on you, rather than fueling you."
Article continues below advertisement
Workout: Work Those Abs
"To tone abs, do crunching movements — move the chest toward the hips, pulling your spine into a curve," says
DavidBartonGym owner David Barton. Try it on a mat with sit-ups or on a machine at the gym. Remember, you could do 1,000 crunches, but without a healthy diet, your work won't show.
Smart Idea: Try New Moves