NEWS
Bikini-Body Countdown: Week 6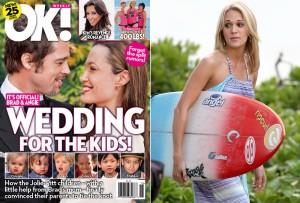 Want to get your body ready for bikini season, just like gorgeous country crooner Carrie Underwood? Take a few tips from OK! as we count down the 10 weeks before you hit the beach, with tips and tricks from the experts for getting that bikini body you've always wanted!
Diet: Snack Smart
"Choose the right snacks, like nuts," says celeb nutritionist Oz Garcia, who works with celebs like Kim Cattrall. "They're full of protein and healthy fat to help control hunger between meals."
Article continues below advertisement
Good choices include almonds, which are high in calcium, — or pistachios, which are relatively low-cal.
Workout: Time to Target
"Start to zero in on specific areas," says DavidBartonGym owner David Barton (members include Pink).
For a great behind, try deep lunges. Step forward with right foot, lower left knee until one inch above floor; rise and switch sides. Try completing three sets of 10 per side.