NEWS
Bikini-Body Countdown: Week 8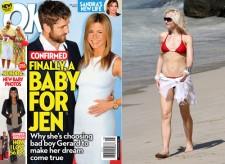 Want to get your body ready for bikini season, just like Gwen Stefani? Take a few tips from OK! as we count down the 10 weeks before you hit the beach, with tips and tricks from the experts for getting that bikini body you've always wanted! Think Gwen has skinny genes? Think again!
"I want girls to know I work at it. It's not easy and doesn't come naturally, unfortunately."
Article continues below advertisement
Diet: Don't Skip Breakfast
"Eat within the first hour of being awake," says nutritionist Oz Garcia, who works with Kim Cattrall and Hilary Swank. "This jump-starts the brain and immune system, and you'll eat less during the day." Oz suggests trying probiotic-rich yogurt.
OK! GALLERY: BRITNEY SPEARS FAMILY POOL PARTY
Workout: Change Your Routine Every Few Weeks
"Update your strength-training regime after three weeks," explains David Barton of DavidBartonGym, who clients include Gwen Stefani and Pink. "Increase your weights by an increment of 5 to 10 pounds so you can do 7 to 10 controlled reps."
MORE ON:
Bikini Body Countdown
OK! NEWS: JEN ANISTON'S BIKINI BOD — CAN YOU BELIEVE SHE'S 41?
Motivation: Write Your Own Action List
Set a plan, says Patricia Moreno, author of The IntenSati Method: The Seven Secret Principles to Thinner Peace. "Vow to drink more water or eat two servings of fruit daily."
FOR MORE BIKINI BODY SECRETS, CHECK OUT THE NEW ISSUE OF OK! — ON SALE EVERYWHERE NOW!