NEWS
Bill Hader Hopes Baby Girl is His Mini-Me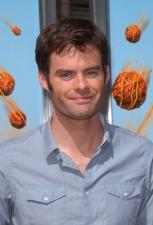 Now that Bill Hader and wife Maggie Carey welcomed their first child, Hannah Kathryn Hader, on Oct. 6, it's time to get crackin' on the comedy bits.
"I think it will be exciting," he told me in August about his impending bundle of joy. "It will be good. SNL schedule, kids … that makes total sense. Those two go in line with each other. I'm excited about it."
While little Hannah is in diapers now, Bill looks forward to the future with his little girl.
Article continues below advertisement
"Getting to take 'em to movies and stuff, and teach 'em voices and make 'em just like me," he tells me. "I want a little version of me running around."
Wife Maggie keeps the laughs coming.
"My wife's funnier than I am, so she makes me funnier," he tells me. "You always work better when you're with people who are funnier than you are, and my wife is definitely very funny."
The couple, who wed in 2006, make a perfect match.
"We're very much in love with each other."
Meanwhile, Bill's biggest vice, Joe's Coffee, likely plays a role in keeping him awake during these sleepless nights.
"They make an amazing latte," he says. "There's a bunch of them. There's one on 13th Street that's pretty good."
Coffee run, anyone?