NEWS
Bill Murray Jokes Around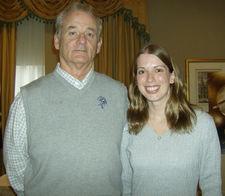 Bill Murray playfully punches me in the stomach right before this photo is snapped during the City of Ember junket held at the Waldorf-Astoria Hotel in NYC. Yikes!
"Where are you from?" he asks me, and fingers my Press Association pal Shereen Low's jade necklace (she has the furry microphone in the pic). "Can I have that?" he asks. He's simply riffing on his shady character and how I asked him about his dark side moments before.
Article continues below advertisement
In the family adventure flick, Bill is the corrupt mayor and Tim Robbins plays a father dealing with a crumbling city set in the future. So, Bill, about your dark side…
"I don't consider it theft when sometimes you encounter an object or a thing that isn't really being used correctly or properly," he deadpans. "Occasionally there are things that are just laying there doing nothing. And they're not being used and they're not being appreciated."
He continues, "If there was something that was laying around, then – it was in your garage and it had been there for nine years and it was just covered with dust and it was like 'are you kidding? This thing's great. Sometimes I feel the need not to steal it from you, but to liberate that object from its bondage."
So apparently he thinks Shereen's jade necklace isn't being used properly, and offers to pass it along to someone who can better wear it. "Am I going to see you two again?" he asks us.
MORE ON:
Red Carpet Confidential
Article continues below advertisement
Back to the flick …
Aside from corruption, the residents of Ember are witnessing their city falling apart. What kind of experience has Tim had with natural disasters? Susan Sarandon's beau has been through the NYC blackouts and California earthquakes. Scary!
"People started barbecues on the street during the blackouts," Tim laughs. "It was really fun. I got my camera out and stayed up all night and took pictures. I was in a hotel during an earthquake and it moved. I was way up high and it moved. It moved like that makes motion. That was really scary. And then I looked out the window and I saw those flashes of light that happen when there are interruptions of power. That was apocalyptic and crazy."
Bill moved into NYC's famed Plaza Hotel during a power failure.
"I was with an entire group of kids and a dog, and they gave us the Presidential Suite, which is kind of funny. The same architect built my house as built the Presidential Suite in the Plaza Hotel. It felt like home. To have sirens and alarms going off nonstop, it drives you nuts."
Tim chuckles. "I have this view of Northern Manhattan, and during the last blackout there was one light on in the entire city. You know what it was? It was the letters G-E on top of the GE building."
On the way out, I pick up two City of Ember hoodies. My brother Jeff will love it … he can't get enough freebies from Sis. ; )
City of Ember is in theaters now.