NEWS
Bill Nye's "Feeling Much Better" After Collapsing on Stage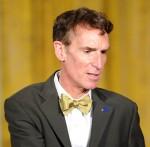 Bill, Bil,l Bill, Bill! After collapsing on stage Tuesday night in L.A., Bill Nye, the Science Guy, is "feeling much better."
OK! NEWS: PRESIDENT OBAMA TO GUEST-STAR ON MYTHBUSTERS
During a presentation at USC, Bill collapsed on stage in front of hundreds of audience members, the Los Angeles Times reports.
At around 8:30 p.m., the L.A. Fire Department paramedics and USC's department of public safety responded to the scene.
Article continues below advertisement
According to one member in the audience, Bill was down for about 10 seconds, but then "he popped back up with much gusto and asked everybody how long he was out for and went on with a story about how a similar thing happened to him that morning."
OK! GALLERY: STARS OF THE SOCIAL NETWORK TO SCIENCE IN SPAIN
While the audience may have been a little worried, Bill's publicist, Glenn Schwart, he's doing well now.
"Bill Nye is feeling much better after a good night's rest, his publicist told USA Today. "He says he pushed himself too hard after a long day of an early satellite media tour combined with a late night speech."
And just because we love...