NEWS
Bill Rancic Says Giuliana Rancic Is "Doing Well at Home" Post Breast Cancer Surgery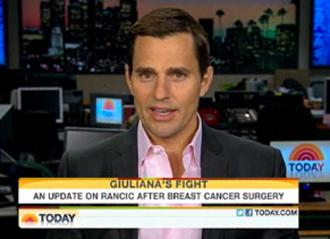 Bill Rancic updated concerned fans Thursday morning on the status of his wife Giuliana Rancic's breast cancer surgery, after her shocking announcement earlier this week on the Today show revealing she had been diagnosed with the disease at the age of 37.
Bill spoke with Today's Ann Curry this morning about his wife's condition as she recovers from a double lumpectomy.
"She's a trouper, she pulled through it and was kind of relieved to get it over with and get the cancer out and is doing well at home," Bill said. "It was kind of a long day. There's many steps in the process when you go through this because it was on both breasts."
Article continues below advertisement
But Bill and Giuliana are maintaining a positive attitude and are extremely grateful for the early detection.
We're viewing this as a gift," he said. "It was caught very, very early and we're going back to the doctor tomorrow. They had to remove a couple of lymph nodes and we're hoping we get a report tomorrow."
And the E! News co-host plans to return to work next week and be in full work mode for award show season.
Her next course of treatment will be radiation to ensure the cancer is gone.
"She's excited," Bill shared. "But she's really viewing life a little bit differently. It's funny, when you go through a situation like this, it really turns the volume down on the things that really aren't that important."
Visit msnbc.com for breaking news, world news, and news about the economy