NEWS
Billie Joe Armstrong: RPattz Fan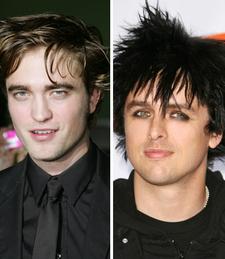 It's no secret that there are hordes of fanatical devotees of Twilight the movie, who lust after and dream about Robert Pattinson on a daily basis. But the hunky Brit, who, coincidentally is an actor playing a part and not really the perfect vampire boyfriend, has fans in some other, more unexpected quarters.
Green Day frontman, Billie Joe Armstrong is one of those fans you might not expect. When asked who he'd want to play Gloria and Christian, the main characters from the band's new album 21st Century Breakdown, Billie Joe tells Spinner.com that Rpattz is the one for him.
Article continues below advertisement
"The girl that played in Juno Ellen Page – I think she could be Gloria," he tells the site. "And Christian, I'm gonna say maybe that kid in Twilight Robert Pattinson. He's a good actor. There's still more to come with that kid."
Sounds good to us!