NEWS
Billy Corgan: The Truth About Jessica Simpson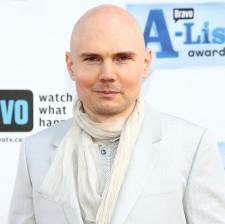 Smashing Pumpkins singer Billy Corgan is setting the world straight on the nature of his liaison with Jessica Simpson.
"The stuff that I've seen doesn't have any bearing to the reality that I'm in," Billy tells the Chicago Tribune, of the talk that he's dating Jessica. "It's like being in a cartoon. It has nothing to do with what's really going on or how I feel."
Article continues below advertisement
Billy explains that he joined Jessica in the studio to compose the theme tune for her VH1 reality show, The Price of Beauty.
"She asked me to help her out on the theme song for her new TV show," Billy says. "The show has an interesting concept.
"She goes around the world to show how different people perceive beauty. In some cultures, bigger is better. In some, smaller is better. It's interesting."
"I ended up writing part of the theme song. It has a little bit of an alternative rock edge, but it's still very pop-y."