NEWS
Billy Ray: Age Ain't Nothin' But a Number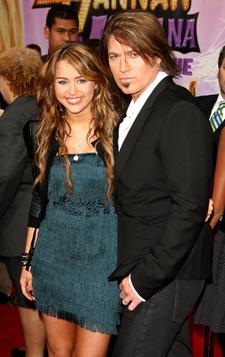 Usually when an older boy is involved, one pictures the dad charging out with a shotgun to defend his daughter's honor. But not Billy Ray Cyrus, who seems pretty laid-back with the age difference between 16-year-old daughter Miley Cyrus and her beau, Justin Gaston, who's 20.
"You know, I think Miley, she makes good choices," he tells PopEater when asked about the couples' age difference. "She's got a great heart, a great head on her shoulders. What's important with Miley is how she feels."
Article continues below advertisement
The famous father and daughter aren't the first ones in music's history to have a family act, as Billy points out that the Cyrus fam is similar to Johnny Cash and his daughter, Roseanne.
"They had something similar to what we're going through," he says. One big difference, he adds, is the presence of the Internet.
"It's a different world. Miley and I are nonstop being filmed."
Part of that filming includes work on the Hannah Montana movie and successful show, which could be winding down.
"As far as the series goes, like everything you know, play it by ear," he reveals. "See what's meant to be and weigh out your options and then do what feels best, what feels right."?
MORE MILEY: