NEWS
Billy Ray: "I Try to Be Miley's Best Friend"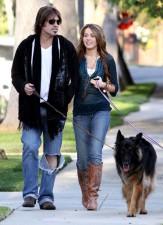 As any parent — especially a parent of a teenager — knows, it's not always easy walking that fine line between protecting your children from the harms of the world and allowing them the freedom to learn those lessons for themselves. Now, imagine being the parent of the most famous 15-year-old on the planet!
So how does country singer Billy Ray Cyrus, who finds himself in this very situation with his daughter, Hannah Montana star Miley Cyrus, handle it all?
Article continues below advertisement
"It's giving her room to be a kid," he explains. "Room to be a young lady and to grow and find her own path and do things her own way."
In fact, says Billy Ray, he hasn't really changed how he views his relationship with Miley. "I've always tried to be her best friend," he adds. "That's what I continue to do now. She needs her space to do her thing, but I'm always there and I'm always a phone call away or a text. She always knows if she needs me, I'm there."
As for how Billy Ray and his wife of 16 years Tish keep their relationship together, he puts it quite simply: "We take it day by day, step by step." And while his answer elicits a groan of "That's deep" from Miley, the 46-year-old continues, "I can't make up some big, fancy answer because there's really not one. I wish I had something really profound to say that 'this is how we do it,' but quite frankly we play everything in our world by ear. Miley and I both do — we play music by ear, when we take the floor as actors, we kind of go with our instincts a lot. That's what we do in life also. We play it by ear."