NEWS
Black Eyed Peas Remember Their Roots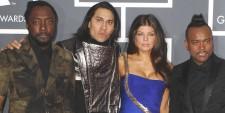 The Black Eyed Peas roll into Connecticut's Mohegan Sun Arena on Saturday, but this night is different from others on their The E.N.D. world tour. They're filming a 3D concert DVD. And, they don't forget where it all began when it comes to opening acts LMFAO and Ludacris.
"I went to junior high school with a guy from LMFAO," will.i.am says. "We had dreams of doing music, and it's such a pleasure that I've known him since I was 14 and now I'm 34. We were 14 with a dream, and when we got off the bus outside, I knew tonight was going to be a good night."
Article continues below advertisement
It's the perfect segue into I Gotta Feeling, which amplifies the celebration with a smattering of confetti.
It's been quite a ride for the Grammy-winning group whose hits include Let's Get It Started, Don't Phunk With My Heart, Imma Be, My Humps, Pump It, Boom Boom Pow and the ditty that started it all – 2003's Where Is The Love? (The crowd is asked to chant "I love what I do; I love who I am.")
The Peas have also spawned a solo career for Fergie, 34, who performs Fergalicious, Glamorous and Big Girls Don't Cry during the two-hour set.
She says, "It's truly a blessing and a dream to be here."
For will.i.am, apl.de.ap and Taboo, being in Connecticut brings back memories.
"In 1998, we started out performing at Toad's Place," will.i.am remembers.
Indeed, fortunes changed for both the original Black Eyed Peas and Stacey "Fergie" Ferguson when the former Kids Inc. star joined the group in 2003. She saw minor success with girl group Wild Orchid before they were dropped from RCA in 2001, but the Peas made her a household name.
Article continues below advertisement
Fergie says, "The highlight of my life would be going on tour with these guys. Seriously. Honestly, joining the band was such a blessing for me just as them accepting me into their circle and becoming friends. It really gave me the confidence to be the artist I had always wanted to be, and I never would've been able to do My Humps if it wasn't for these guys. Or Fergalicious. If they didn't give me the confidence to tour and explore hip hop … it's one of the loves of my life, and something I really needed to be confident to do because I'm a really big fan."
Performing couldn't be more natural for the charismatic crooner, who is the daughter of two schoolteachers.
"I'd go to school, and after school my mom would pick me up, I'd do my homework in the car, I'd go to auditions, then I'd go straight from there, pick up fast food – I grew up on fast food – go to dance classes or gymnastics classes, then go home and go to bed, so I really was working at a young age," Fergie admits.
Article continues below advertisement
These days, The Black Eyed Peas are doing their part to make sure other kids can achieve their dreams.
Will.i.am established the I Am Scholarship fund that covers college tuition expenses for four years.
"I set up a scholarship because someone at some point in time believed in me, believed in my dreams, and I made it out the ghetto, I'm able to take care of my family, and I want to provide the same opportunity for some kid who has dreams," will.i.am says. "You don't bail out on kids because of finances out there. You still have to let them know that their dreams can become a reality. I wanted to do my part."
What does The E.N.D. -- the title of their latest album and world tour -- mean?
"It means a lot of things, but most of all, it means an end to the rumors that the Black Eyed Peas are breaking up," will.i.am says. "It's the end of an era. There used to be record stores like Virgin, Tower, Warehouse and Sam Goody, but they're no longer. The era's moving toward we don't know yet, but we're going to continue to make music and tour, make music to make people dance, make music to change people's lives. Change our lives as well."
Article continues below advertisement
Still, will.i.am considers life post-Peas after his role in X-Men Origins: Wolverine opened the door to an acting career.
"That would be cool, but right now I'm focused on the Peas," he says. "I filmed it in 2008, and I'm so thrilled to be part of it. It's a great movie. After the Peas run, maybe I'll think about acting."
Time for the afterparty held at Mohegan Sun's Ultra 88. As apl.de. ap sips Red Bull, he spins tunes from Kings of Leon, Lady Gaga and Michael Jackson. Taboo joins him in the DJ booth to play a mix of old-school Black Eyed Peas hits. As for will.i.am? He's glued to his Blackberry, accepting, reading and responding to BBM requests and fan messages. (He gave out his pin earlier in the evening, and incorporated everyone's messages into a rap.)
Although Fergie never makes her way down to the club, she is likely sleeping soundly in the Mohegan Sun's Native American-inspired hotel rooms. Her day off, Sunday, could be a busy day of play between the Elemis Spa, gambling and shopping opportunities offered at the resort.
Catch The Black Eyed Peas on their world tour, which traverses the globe through June. And, make plans to stay and play at Mohegan Sun Casino and Resort surrounding upcoming performances by Jay-Z, Martina McBride, Bon Jovi, Chelsea Handler and Michael Bublé.