NEWS
Blake Lively "Can't Wait" to Have Babies, Ryan Reynolds is a "Best Friend"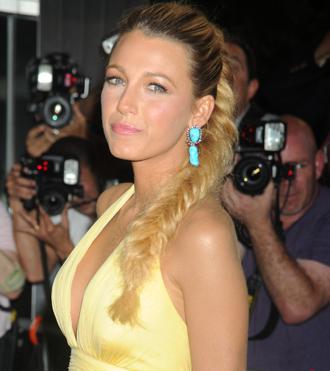 Blake Lively conducted a sweet, feminine interview with British publication more!, and revealed a rather domestic and traditional lifestyle underneath all the racy red carpet dresses. (She claims to channel Marilyn Monroe in order to combat feeling self-conscious.)
OK! GALLERY: BLAKE LIVELY BRINGS HER SEX APPEAL TO THE GOSSIP GIRL SET
"I really like to cook. Cooking makes me feel sexy. I think there's something so sensual about it — the smells, the touches, the flavours, the experience of creating something," she told the magazine. "And you know, when you're doing it with someone you love, creating that together, I think it's really attractive."
Article continues below advertisement
While she doesn't name Ryan Reynolds directly, when asked about her perfect mate, she waxes poetic about all the characteristics her beau of nearly 10 months clearly exhibits.
"When I look for a partner there has to be a strong connection. He needs to be my best friend, whether he's macho or sensitive — it doesn't matter. He also has to make me laugh. I enjoy someone who's a lot of fun to be with," she continues. "He also needs to be kind, patient, caring and not take himself too seriously. And of course, he needs to appreciate my cooking! I'm very domestic."
OK! NEWS: BLAKE LIVELY CALLS HER SAVAGES MOVIE ROLE "TERRIFYING"
We get it Blake. You like to cook. Oh, and she wants kids, too. Soon.
"It's something I can't wait for and I'm so excited about," she gushed, then confessed how depressed she is that her neices and nephews aren't her own kids.
The reviews for Blake's stoner drama, Savages, have been mixed, but the New York Daily News gave the Gossip Girl a thumbs up, saying the drama "follows through" on her great performance in 2010's The Town.