NEWS
Blake Lively Dishes On Style & Diet: "I'm Really Lucky To Have A Good Metabolism"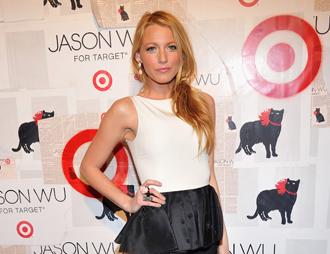 Blake Lively has it all. Hot career, hot boyfriend (hey, Ryan Reynolds) and hot style. At last night's Jason Wu for Target launch party in NYC, Blake shared some of her style secrets and her obsession for cooking!
The Gossip Girl star told reporters, "My style is always changing like me. I think to define it would be scary because as I grow up and as I change, so does my style. I look back on things I wore years ago and go, 'Oh no I would never wear that now.' But it represented me then and I loved it."
Article continues below advertisement
Blake also explained why she wanted to come out to help support her pal Jason Wu. "I'm such a fan of his, and I have been for so long. We were talking about how when we first met, Gossip Girl had just aired and it was before he dressed Michelle Obama. So we were both young and new to all of this and very naive, and to be here now and see what our journey's been for the last three years."
OK! NEWS: BLAKE LIVELY TO SCORE MORE HOT CO-STARS: CHANNING TATUM & JUDE LAW!
"We're both so lucky we've been pinching ourselves thinking, 'How cool is this?' But it's nice to have that comradery and also his lines are so beautiful; they're so classic and elegant and really timeless. He has such iconic shapes. His clothes look like a lady. I appreciate the sophistication."
What will Blake be wearing this upcoming season? She said, "I'll probably be in a lot of high waisted mini skirts and shorts."
Article continues below advertisement
OK! GALLERY: BLAKE LIVELY SHINES AT THE HAYWIRE SCREENING IN NYC
When reporters inquired how Blake kept her famous figure, she attributed it to good genes! "I'm really lucky to have a good metabolism. When I have to get in shape for a movie then I can do it, I only had to do it once but I just love to cook a lot. And I think I use a lot of fresh produce, maybe that helps?"
It also helps that when asked what she loves to do in her downtime, the leggy blonde said, "Cook!"
Catch Blake on the special 100th episode of Gossip Girl airing this Monday at 8 p.m. ET.