NEWS
Blake Lively Opens Up About Leonardo DiCaprio & New Beau Ryan Reynolds!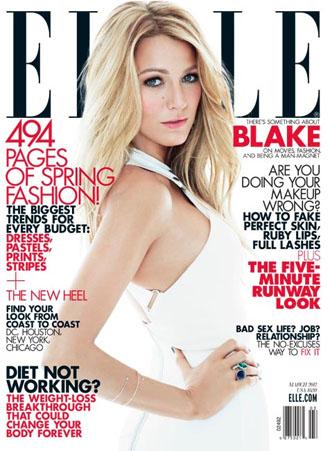 Blake Lively is pretty private when it comes to her love life. Although she may be pictured with a man, she rarely talks about her relationships, especially when she's linked to superstars like Leonardo DiCaprio and Ryan Reynolds. 
OK! GALLERY: BLAKE LIVELY & RYAN REYNOLDS' BOSTON SLEEPOVER 
"I've had four boyfriends in my whole life. I've never been with anyone that's not a boyfriend," Blake, who also dated her Gossip Girl co-star Penn Badgley, tells Elle's March issue, which she covers. "If I've ever had a man in my life, it's because I know him well, and he really means something to me. I don't take that stuff lightly," she adds. "I'd rather be by myself than be spending any time or energy on somebody that I didn't feel sure about." 
Article continues below advertisement
Blake seemed pretty sure about Leo last summer, yachting around Cannes, France, strolling through Portofino, Italy, and biking in NYC together. But, what does she have to say about that?
"I was in school every single day!" Blake explains, adding that she had rented an apartment in France for the summer to take a French-language class. "I'd get off, and, you know, we'd go on a boat in my harbor in my little village, and there'd be people hiding in a bush. Then people said, 'There's photos of you coming out of some hotel.' I was on a school field trip! And my friend at the time," she says, referencing Leo, "joined the school field trip, and we were walking down the street."OK! NEWS: BLAKE LIVELY TO SCORE MORE SEXY CO-STARS: CHANNING TATUM & JUDE LAW! Turns out they probably were just friends, considering Blake has moved on from the A-list actor and started dating her Green Lantern co-star, Reynolds.As for whether or not she and Ryan are looking into buying an apartment together on Fifth Avenue in NYC, Blake says, "Newspapers say a lot of stuff, don't they? Though I wish I could afford half the places that I hear I'm looking at. Sign me up!"