NEWS
Blake No-Longer Incarcerated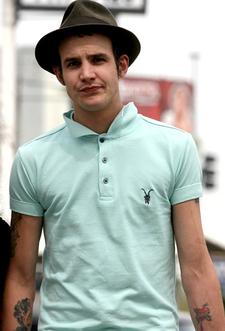 Amy Winehouse's soon-to-be ex bloke Blake, is out of the nick, as they say in England.
Her estranged husband, Blake Fielder-Civil -- who was accidentally dubbed Blake Incarcerated by Amy in her Grammy speech -- walked free from Edmunds Hill Prison in the south of England on Feb 25, according to TheSun.co.uk.
The singer rarely gave a performance during his 27 month jail term without giving a rambling tribute to her Blaaaake -- even sporting a heart in her famous beehive with his name stitched onto it for most of that time.
Article continues below advertisement
But the pair split in November while he was inside for assaulting the owner of a bar and attempting to pervert the course of justice by trying to pay him off.
He filed divorce papers in January claiming that she'd cheated on him.
Blake was met at the prison gates by his mother Georgette and the pair were driven away in a silver BMW.
He was allowed to leave the prison in November to go to rehab, but was put back behind bars for failing a drug test.
Meanwhile, Amy has recently been sunning herself in the Carribean with a new guy -- and is reported to be looking for a house in the Islands.