NEWS
Blake & Penn's Romantic Super Bowl Weekend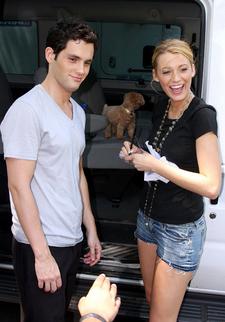 It's safe to say that Gossip Girl's reigning hottie couple, Penn Badgely and Blake Lively, are the cutest couple ever!
OK! caught up with the pair over Super Bowl Weekend at the Direc TV Celebrity Beach Bowl party in Tampa, Florida, where they shared some of their favorite things to do as a couple.
"Umm...we like to go out to dinner!" Blake told OK! with a smile on her face. "I would say the most amazing experience we have together is living in the city," Penn adds. "It's the time in between when you're walking from a restaurant to a theater or whatever. Just being able to live in New York City and be young, it's an amazing gift to share that."
Article continues below advertisement
The pair may love NYC, but the two seemed happily cozy in Tampa, where OK! learned that the two hunkered down at the Seminole Hard Rock and Casino Hotel. But unlike other celebs who prefered to party the weekend away, Blake and Penn kept things low key, staying in their room, enjoying private dinners and going to bed early. (uh-huh!)
"We're lucky," says Blake. "We wouldn't be together if we didn't enjoy each other's company."
"It's been overwhelmingly positive," Penn adds, pin-pointing the success of the show. "It's really been a ride for us all just the way our lives have changed. I mean we're doing this!"
<!-- /* Font Definitions */ @font-face {font-family:Cambria; mso-font-alt:"Palatino Linotype"; mso-font-charset:0; mso-generic-font-family:auto; mso-font-pitch:variable; mso-font-signature:3 0 0 0 1 0;} /* Style Definitions */ p.MsoNormal, li.MsoNormal, div.MsoNormal {mso-style-parent:""; margin-top:0in; margin-right:0in; margin-bottom:10.0pt; margin-left:0in; mso-pagination:widow-orphan; font-size:12.0pt; font-family:Cambria; mso-fareast-font-family:Cambria; mso-bidi-font-family:"Times New Roman";} p.NoSpacing, li.NoSpacing, div.NoSpacing {mso-style-name:"No Spacing"; mso-style-parent:""; margin:0in; margin-bottom:.0001pt; mso-pagination:widow-orphan; font-size:12.0pt; font-family:Cambria; mso-fareast-font-family:Cambria; mso-bidi-font-family:"Times New Roman";} @page Section1 {size:8.5in 11.0in; margin:1.0in 1.25in 1.0in 1.25in; mso-header-margin:.5in; mso-footer-margin:.5in; mso-paper-source:0;} div.Section1 {page:Section1