NEWS
Blake Shelton Talks Miranda Lambert & Future Children: "Going to Be Spoiled"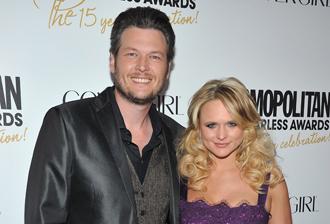 We wish we were married to Blake Shelton! The country singer and the Voice coach raved about his wife, Miranda Lambert, while being honored as "fun and fearless" at Cosmopolitan's annual event in NYC.
"I actually think we should split this award tonight," he said, "because if there's anything fearless about me, it's stuff that I learned from her, you know? But if there's anything fun about her, that stuff she's learned from me."
Article continues below advertisement
Miranda and Blake are coming up on their one-year anniversary, and Blake remarked about this milestone, "We just spent a week together in Oklahoma, and that's rare to have an entire week together, and we just have so much fun. It's just so easy and natural; we don't think like that. We don't think ahead and how to be different with each other. I think we're more concerned with how to protect what's going on now and make sure that's what happens in the future."
OK! GALLERY: MIRANDA LAMBERT SUPPORTS HUBBY BLAKE SHELTON AT COSMO'S FUN FEARLESS 2012 AWARDS!
The next question is obviously: When are the kids coming? But Blake says we'll all have to wait. "Well, we actually talked about that this week. I think we both agree that we're a couple years away from seriously talking about that, you know?
"There's a lot of this stuff that's happening right now, and it only happens once, I think. We want to enjoy this and be able to focus on our careers so when it is time, we'll be ready to sit around and watch that happen."