NEWS
Chris Brown Fires Back at Miranda Lambert: "Using My Name to Get Publicity?"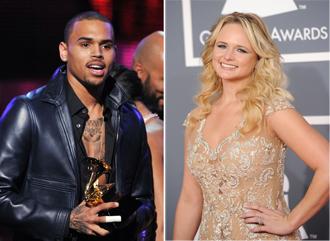 Chris Brown's return to the Grammy Awards this year resulted in mixed reactions from his fellow stars. While some may have kept their opinions to themselves, Miranda Lambert took to her Twitter to express her anger. The result? A full-blown Twitter feud between Miranda and Chris that's still going strong.
OK! GALLERY: BACKSTAGE PHOTOS FROM THE 2012 GRAMMY AWARDS
"How dang long did they give Nicki Minaj to do whatever that was? Strange. And Chris Brown twice? I don't get it. He beat on a girl...," Miranda Tweeted last week after the show.
Article continues below advertisement
"Not cool that we act like that didn't happen," she added. "He needs to listen to Gunpowder and lead and be put back in his place. Not at the Grammys.
Chris pleaded guilty in 2009 for assaulting his former girlfriend Rihanna before the Grammy Awards. He is now serving five years probation. This year was the first time Chris returned to the Grammys after the incident.
So, what did Chris have to say to Miranda's Tweets?
Yesterday, Chris reacted to Miranda's actions by Tweeting, "Using my name to get publicity? I love it! Perform your heart out!"
He then added, "Go buy @Miranda_Lambert album! So motivational and 'PERFECT'!"
Do you think these two will end their feud now?