NEWS
Blink-182 Confirm Reunion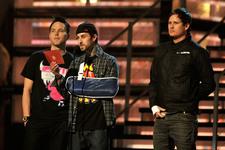 Perhaps it took the tragic plane crash that could have killed drummer Travis Barker, or maybe it's just boredom or a desire to cash in. Regardless, the boys from hit-making punk-pop trio Blink-182 confirmed on Sunday night that they were reuniting after four years apart.
"We used to play music together," they told the audience at Sunday night's Grammys, where they were on hand to present the Best Rock Album award. "We decided we're going to play music together again."
Article continues below advertisement
To clarify things further, Travis and bandmates Mark Hoppus and Tom DeLonge released a statement: "To put it simply, we're back. We mean, really back. Picking up where we left off and then some. In the studio writing and recording a new album. Preparing to tour the world yet again. Friendships reformed. 17 years deep in our legacy."
No further details about tour dates or album release dates have been confirmed, though it's been rumored in recent weeks that the Blink boys would be opening for fellow punksters Green Day on their upcoming tour.