NEWS
Bob Saget: Alyson Used to Be My Babysitter!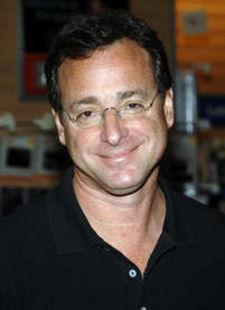 's HBO special Bob Saget: That Ain't Right, comes out tomorrow on DVD. It is dirty and off the cuff. This is an aspect of Bob's stand-up that is now a well-known tidbit, though to some it's still surprising that the man famous for playing Danny Tanner on Full House has such a naughty stand-up routine. "I think to some people it still is. I'll go to colleges and I'll go to a theater and it's a couple thousand people. People are coming, expecting it. Maybe half the audience is uneducated to the stand-up, not that they need to be educated… but they already get the joke."
Article continues below advertisement
For those who may have missed the special, which aired on Aug. 25, they can catch it as well as some extras on the DVD. One includes the skit he did with Jamie Kennedy called "Rollin' With Saget," which Bob insists " is completely responsible for. They did it and I just showed up." Another segment is a man-on-the-street piece he taped in New York City.
Also, Bob will be returning for the third season of How I Met Your Mother, where he narrates the show as an older Ted Mosby. "I think it's an adorable show. I'm kind of the under-the-radar guy," he says. "I'm like Daniel Stern in the Wonder Years. And it's a very easy, nice thing to be a part of. It's an honor to be a part of a show I like."
He adds, "It's really those guys' show and they write such a great show. And I know a lot of people from it. I know because she used to be my babysitter. Josh is very talented and so is Jason. And I've known since he was young because he was on Doogie and I was on ABC. And he's so good and so funny."
By Jocelyn Vena