NEWS
BOB SAGET: Back in Action!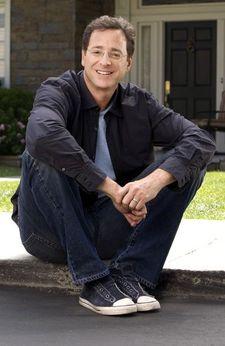 Bob Saget is returning to ABC on a new sitcom, Surviving Suburbia.
Yep, he plays a dad, again. Yes he has kids, again.
But don't expect a Danny Tanner sentimental life lesson in this raunchy peek inside life on Main Street, USA.
Bob plays Steve Patterson, a man married for 20 years who has a love/hate relationship with his neighborhood.
"He loves everybody, but he just doesn't want to get that involved," Bob explains.
Article continues below advertisement
Such as?
"Don't borrow the neighbors' keys to take in the mail because suddenly you're house-sitting. So it will come back to bite you in the ass," Bob says with a laugh.
Luckily (though not so much for his neighbors), Steve's the type of guy who lets you know how he's really feeling.
"It's really wicked some of the things Steve says," Bob reveals. "But he says the things other people are thinking."
And then there's Steve's favorite wardrobe staple.
"He walks around the neighborhood in flip-flops," Bob says with a laugh.
Steve's also the kind of guy who takes his daughter to Indian Princess play dates, so he can sit around and drink with the other dads.
"He's does have a bit of a drinking issue on the show," Bob says. "We'll get into dealing with his vices."
And don't even ask about Steve's profession.
"You never find out what he does for a living, which I love," Bob reveals. "It's financial stuff, but he's like Michael Corleone—we never talk about his business."
Article continues below advertisement
Bob doesn't have to go far to be inspired for his new gig. He just taps into a slice of his own real life.
"I was taking my youngest daughter to school this morning and the pool broke," says the single dad of three. "And then we had a security issue in the neighborhood. Life imitates art all around."
Still, Bob feels that his former Full House audience will connect with his new series.
"They're older now, and it's a domestic sitcom with a 2009 feel to it. There's financial troubles, and when we play the game of Life it turns into an argument."
Yep, that definitely happens in the suburbs!
Surviving Suburbia premieres Monday, April 6 at 9:30 p.m. on ABC.