NEWS
Bobby Brown "Worried" About Bobbi Kristina & Wants Her to Go to Rehab to Deal With Her Grief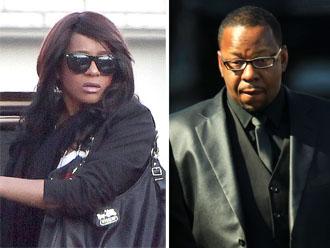 Bobbi Kristina Brown has been struggling to deal with the death of her mother, Whitney Houston, who was laid to rest this past weekend in a Westfield, N.J., cemetery. But after the 18-year-old disappeared following her mother's funeral service, Bobbi Kristina's father, Bobby Brown, thinks she needs to seek treatment to help her cope with the overwhelming grief.
According to RadarOnline.com, Bobby told family friends that he's "really worried" about his daughter and that he doesn't believe she's getting the support she needs.
Article continues below advertisement
OK! NEWS: WHITNEY HOUSTON BURIED NEXT TO HER FATHER AT FAIRVIEW CEMETARY
"Bobby is afraid of what is going to happen to Krissy if she doesn't get some help; the last thing he wants is another tragedy," a source close to the singer tells RadarOnline.com. "Krissy has taken her mother's death really hard, not surprisingly, and Bobby is terrified she's going to do something stupid. He wants her in a treatment center, getting professional help to get her through the grieving process without falling back on alcohol or drugs to mask her pain."
"Let's face it: Both her parents struggled with dependency issues, and Bobby knows that addiction often runs in the genes, so he's terrified his daughter is going to follow in his and Whitney's footsteps. He wants to stop that by all means possible," the source adds. "Bobby would like to see Bobbi Kristina go to rehab now before things get really bad for her."
Bobbi Kristina was at the Beverly Hilton Hotel when her mom was found dead in her room. She was hospitalized twice right after the news broke, reportedly being treated for stress and anxiety.