NEWS
Bono's Biggest Influence is His Wife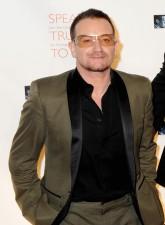 Bono's charity work is renowned worldwide, but the most influential person in his life these days is his wife, Ali Hewson, whom he wed in 1982.
"Getting me out tonight was my Mrs.," the U2 frontman tells me in a lilting Irish accent Wednesday during the Robert F. Kennedy Center for Justice and Human Rights Ripple of Hope Awards dinner held at NYC's Pier Sixty at Chelsea Piers.
He laughs, "She wears really, really attractive underwear."
Article continues below advertisement
The powerhouse musician/philanthropist and Ali have four kids including Jordan, 20, Memphis, 18, Elijah, 10, and John, 8. Along with Wyclef Jean, he's being honored with the Ripple of Hope Award for his charitable efforts.
In the giving back arena, Wyclef looks up to the late Michael Jackson.
"I don't think we should've ever stopped giving him awards, you know what I mean?" the Yele Haiti founder says. "When you see stuff like what Michael's done, it makes us feel like we're just getting started, and it's our duty as human beings to keep doing what we're doing."
What does the recognition mean to them?
"Actually, the honor is for the people, and we're here for the representation of the people and the fact that we can be recognized sends that signal to the world that there are people that care," Wyclef says. "Every time this happens, it definitely puts a boost on our back to know that the job is just getting started and we have a long way to go."
Bono adds, "We represent a movement in our different spheres of people who got organized and got busy and put on their marching boots, and that's the thing I'm excited about. For me, at the One campaign, two-and-a-half million Americans signed up for that. I'm here to represent them, really."
Why is it important for celebs to raise awareness?
"I think it's important for everybody," Bono says. "Everybody has something to offer. I'm as jaded as anyone by famous faces and posing in photographs with vulnerable kids, but sometimes that's what it takes."
Hm, how are Wyclef's charitable pals Brad Pitt and Angelina Jolie doing?
"I don't know, I've gotta call them," he says. "I do miss them."